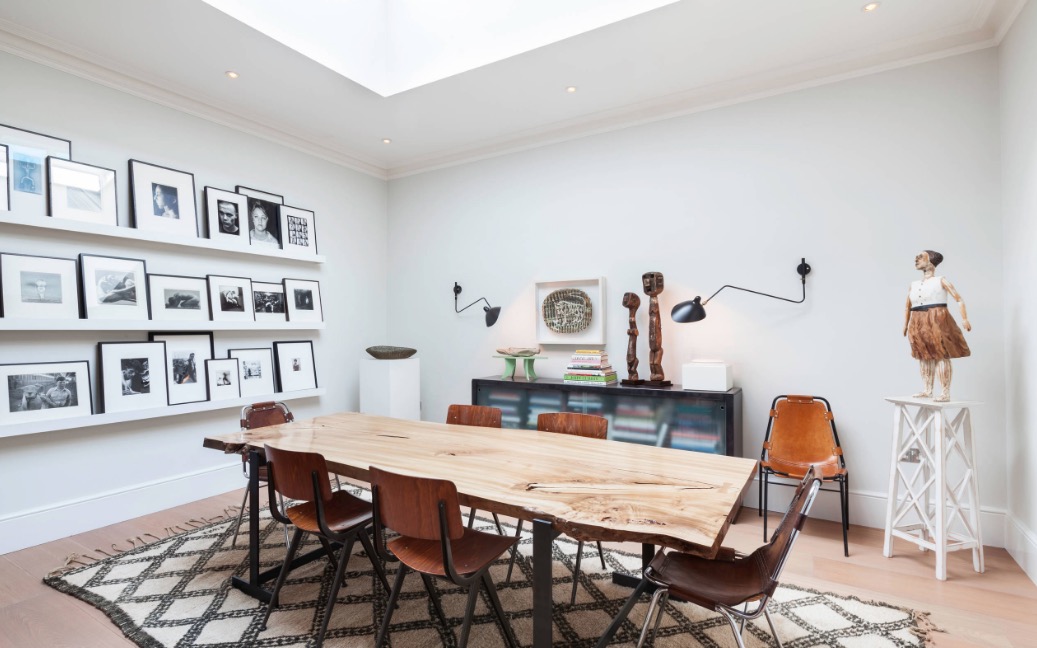 27 Jul

How to Decorate Your Rental Walls (and Still Get Your Deposit Back)
Rentals can be tricky. On the one hand, you want to make the space feel like home while you're living there. On the other, you don't want to make it so homey you kiss your security deposit goodbye. In particular, choosing to decorate rental walls can feel like walking a fine line.
That's where we come in. In this post, we've gathered lots of practical suggestions to help you decorate your walls without having to deal with a single nail. Read them over and weigh how each one will mesh with your rental space and personal tastes. We're sure you'll find at least one option that strikes your fancy.
Display art on surfaces
Here's the No. 1 secret to keeping your security deposit safe and sound while still feeding an art addiction: You don't actually have to hang art on your walls to make sure it plays a prominent role in your design. When your ability to change the décor is limited, simply displaying the art can have the same effect without inflicting any damage.
All it takes to pull this look off is a little imagination. Start by going around your apartment and looking into the various possibilities available to you. Consider existing shelving, tabletops or other surfaces that could use a makeover. These days, many minimalist looks even include larger artworks that have been propped up on the floor as a style statement.
If you've looked at your available spaces and aren't quite satisfied, remember you can always bring in your own. Decorative ladders are great for displaying small décor items, as are entertainment centers and bookshelves. Don't be afraid to get a little creative with this one.
Find alternative hanging methods
If simply displaying art is not to your taste, you may not have to forgo hanging entirely. Here, it's all about getting creative with the way they're hung. Take the picture above as an example. With a little planning, a variety of household items can be transformed into part of a DIY gallery.
Though this list is by no means exhaustive, here's a quick rundown of some options:
Use S-hooks and decorative rope to hang pictures from your moldingEnlist the help of wash-tapeGet some of those removable wall hooksOpt for some Velcro
In this case, being satisfied with the method of installation and the final look of your pieces is key. After all, some people may be all for the bohemian flair of S-hooks and decorative rope while others may not care for it at all. We recommend looking at a few design sites like Freshome before you get started to gather some design inspiration for the task.
Reconsider removable wallpaper
Remember wall decals? They aren't just for kids' rooms anymore. Today's wall decals — rebranded under the term removable wallpaper — are a great way to make a big design statement for relatively little effort and upfront cost. With a press-and-stick installation method, plus the ability to peel the design off and throw it away at the end of your lease, this method should be a go-to pick for any renter.
When working with removable wallpaper, the first step is to gauge the quality of your walls. Look for ones that aren't heavily textured or have lots of loose plaster. Smoother walls reduce your chances of having air pockets under the design on installation and ending up with a bubbly look.
With the walls prepped, the possibilities are endless. Depending on the design you choose, you could opt to cover a whole room in a print, stick to one eye-catching design to create an accent wall, or highlight a particular area like an office nook or kitchen backsplash.
Add some greenery
This may be an unconventional suggestion to some since it doesn't involve your typical forms of wall art, but in our minds, it's about time to give greenery its fair share of attention. There's no denying that natural elements like plants can bring a fair amount of visual interest and variety to your home, but best of all, there's absolutely no wall-mounting required.
From a design standpoint, over the last few years, we've seen greenery become increasingly popular. Many modern aesthetics, especially those that advocate for simplicity like Scandinavian design or Japandi, count on plant life to give their interiors a much-needed pop of visual interest. With that in mind, if you choose to go this route, you'll be solidly on-trend.
One caveat to this: Unlike the other suggestions in this post, adding greenery into your interiors does come with a promised commitment of ongoing care. Make sure you check out the upkeep instructions for any plants you intend to purchase so you know what you're getting into.
Decorating a rental and, in particular, dealing with rental walls can be a challenge. On the one hand, it makes sense to want to make the space feel like your own during your tenure there, but the threat of losing a security deposit can be enough to quash that aspiration for many. With the help of the advice in this post, we hope to have your décor feeling unique to you in no time flat.
What do you think of our suggestions for bringing a little life to rental walls? Will you be using any of them to decorate your apartment? Tell us in the comments.
The post How to Decorate Your Rental Walls (and Still Get Your Deposit Back) appeared first on Freshome.com.
Read more: freshome.com