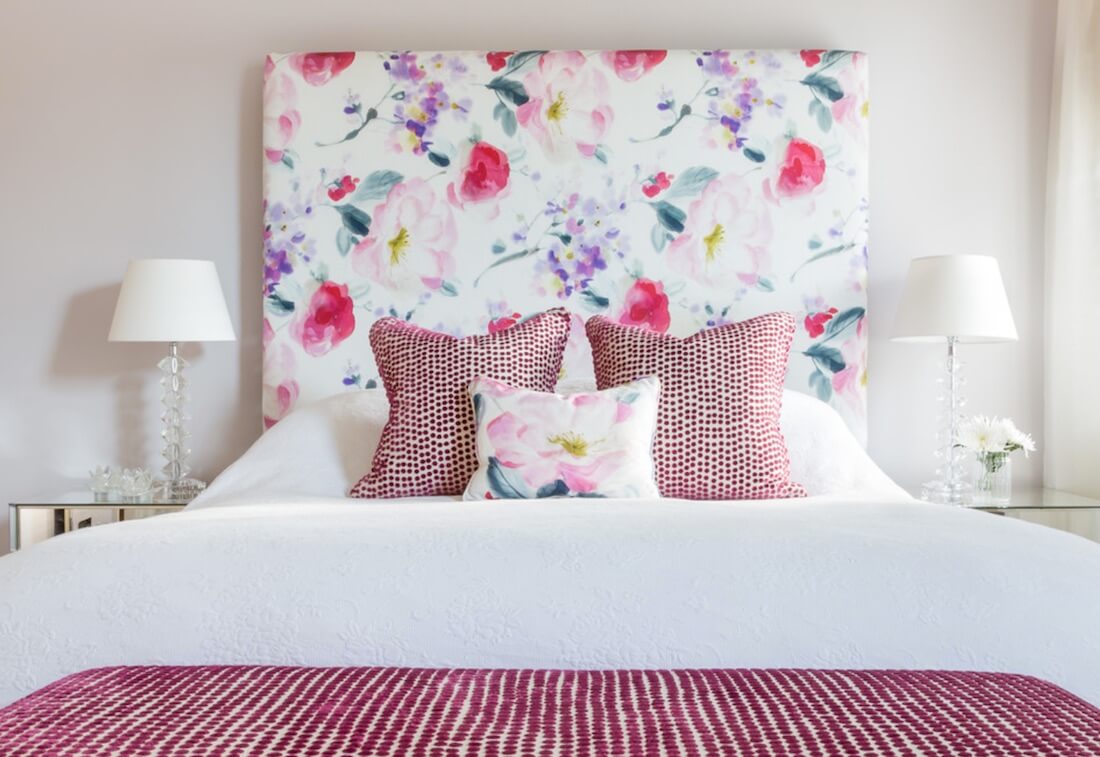 08 Aug

5 Ways to Work with Large Floral Prints on Upholstery

Large floral prints are usually seen as a classic component of more traditional styles, where detailed patterns and busy textures dominate. However, they can actually fit into a wide variety of styles. If you know how to work with floral prints, they're an attractive addition to just about any room. And since they come in so many different patterns, it's easy to find one that works with your dream room. Read on to learn how large floral upholstery can add to your living space.
Combine large floral prints with neutrals
One way to use large floral prints is to combine them with a neutral color scheme and somewhat minimalistic design. Choosing to decorate an area in predominately white or brown shades means the florals themselves can pop. They also don't have to compete with other bright colors or textures.
The photo above shows how this look makes the chairs a focal point. Accenting floral patterns with subtle potted flowers also creates an attractive style. The chairs work well as part of the transitional design, with timeless elements like the marble fireplace and light walls, combined with the classic, ornate lighting fixture.
Use florals on creative décor pieces like headboards
Don't think you're limited to furniture for large floral prints. The photo above shows how well flower prints can work in the bedroom as part of the headboard and matching throw pillow. Again, subtle flowers on the nightstand add an accent and cohesion to the space.
Likewise, you can use the same concept in other rooms. For instance, you might consider reupholstering an ottoman to go with solid-colored furniture. This allows a large floral print to act as more of a classic accent, which goes with just about any space.
Go for muted floral designs
Another idea is to go for large floral prints that use a more subdued color scheme. Look for floral prints that have the actual flowers in more subtle shades like blue or dark gold. The flowers themselves can be spaced farther apart so that more of the background shade pops out, like the sage green in the photo above.
A more grounded color scheme works in a variety of styles, too. That muted coloring fits with a wider array of furniture and textures, since it won't dominate the space as much.
Remember the windows
If you're looking to work with bold floral patterns, remember elements like valances, curtains or fabric blinds. These elements are great for adding a shot of color to otherwise neutral-colored rooms. Another option is to coordinate the window treatments with a chair or two, like in the photo above. This adds a look of balance and cohesion to the room.
Of course, if you're going for an artsy or busy style, adding window treatments with bold floral patterns and bright colors can work with almost anything else you put in the room. Some styles, like boho styles, are famous for adding as much color and texture as possible.
Color coordinate with the rest of the room
A great way to make a large floral print work is to color coordinate it with the whole room. In the photo above, the orange flowers match the paint at the top of the wall. From there, complementary shades like salmon and peach give this room a cohesive design.
This idea also works for furniture. You might want to try combining floral patterns and solid colors — like red poppies on one piece with matching solid red furniture around it. Other elements of the room could also match, such as a red accent wall.
With so many designs and styles, there are countless ways to incorporate large floral prints into your home. How would you like to use this fun pattern? Let us know in the comments.
The post 5 Ways to Work with Large Floral Prints on Upholstery appeared first on Freshome.com.
Read more: feedproxy.google.com