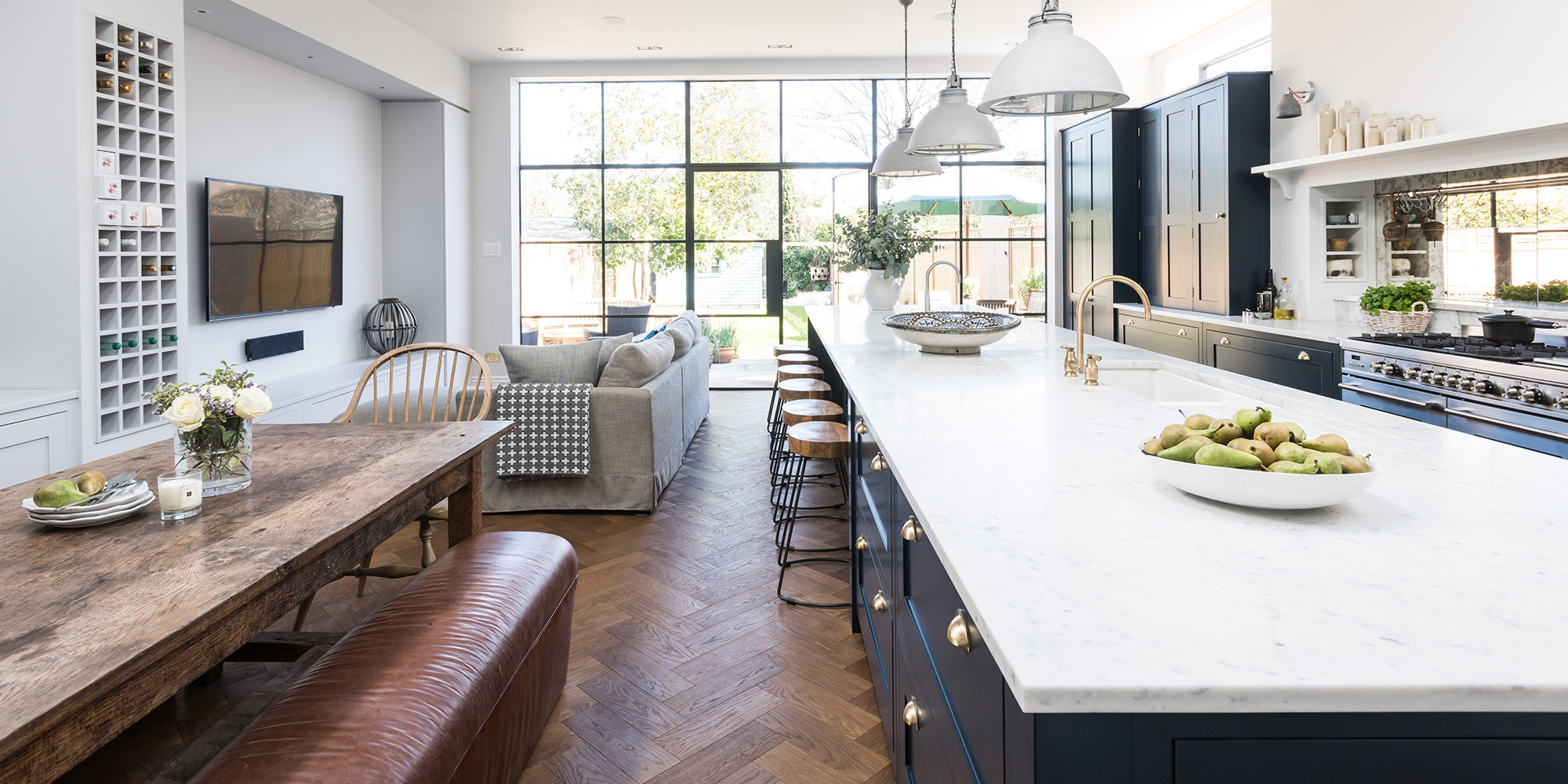 09 Aug

Kitchen island ideas for every style of home

Our kitchen island ideas will help you choose the perfect central unit
Large islland. Pendant lights. Giant wall clock
With the move towards larger, open-plan kitchen extensions, the kitchen island has become an essential feature. And it's not hard to see why, given an island unit has lots to bring to a kitchen design.
For a start, it can provide extra prep space, and form a boundary between the cooking zone and the living/dining area. A shaped island unit can also help direct the flow of traffic away from busy hotspots. It can be long and slim, running parallel to the work area; neat and round in a compact room; or big and broad, housing a sink and appliances.
Want more design inspiration? Take a look at these showstopping kitchen ideas 
Almost all kitchen islands incorporate seating – even the smallest space can usually accommodate an overhang of worktop and a pair of bar stools. Alternatively, you could pick a long kitchen island with integrated low-level, table-style seating at one end.
Functions aside, the change of pace offered by a kitchen island often encourages a variation in material. You can afford to be braver here with a bolder finish or colour, or perhaps a more expensive material that would be prohibitive across an entire room. For a show-stopping centrepiece, look to luxury materials, from deeply veined marble and mottled granites to exotic timber veneers and gleaming mirrored glass or burnished metal.
There's also a trend towards more textured materials – think raw or rough-sawn wood – as well as a contrast of colour or finish between the island and the rest of the kitchen. And don't forget kitchen island lighting – it can turn a good-looking unit into a showstopper of a kitchen centrepiece.
Read on for more fabulous kitchen island ideas…
1. Go for a modern classic combo of navy and grey
Choose a Shaker-style island in on-trend navy blue and create a country kitchen with a very modern twist. This design features a built-in sink, cupboard storage, a marble top, staging-style shelving and one side dedicated to breakfast bar seating. Combine with grey wall units and a range cooker for the perfect mix of classic and contemporary.
Get the look
Buy now: HAY Oak Stool, £189, Amara
2. Make a statement with bright bar stools
New cabinetry is a big investment. So it's understandable that you might not want to be too experimental with colour. If that's the case, why not introduce a brighter shade through accessories that are easier to switch out if you get bored – like these statement bar stools? For something even less permanent, a vase of flowers will do the job!
3. Power up your island
It's vital you include ample plug sockets on your island. They're not only useful for powering small appliances like stand mixers and food processors, they'll also be handy for charging phones and laptops.   The timber stools have bags of character, and work beautifully with the pale blue island, giving the overall scheme a subtle coastal feel.
Get the look
Buy now: Similar pair of Bumble stools in Smoked Oak, £320, Loaf
4. Have fun with task lighting
While the rest of this simple but stunning kitchen is understated in grey, the owners have had a bit of fun with the coordinated pendant lights. We love the switch in colour between shade and flex – and the matching tulips! A stone worktop and wooden stools and bookcases also add warmth to the otherwise cool scheme.
Inspired? Kitchen lighting – everything you need to know
5. Make it as multifunctional as possible
Look closely at this classy, understated kitchen island and you'll discover it serves a multitude of purposes – a place to wash, prep food, with a neat breakfast bar to eat at with tucked-under stools. There would be plenty of space to add a hob if you wanted, too. 
6. Keep it tidy with drawers
Echo the homely feel of a country kitchen with a pastel blue centrepiece island. In an otherwise neutral scheme, this island adds a subtle injection of colour and draws the eye to its charming display of drawers and white knobs.
Fill them with everything you need to lay the table, but leave a few empty so that you have somewhere to hide clutter when unexpected visitors arrive.
7. Squeeze in a slimline island
You don't need a vast kitchen to fit in an island, as this skinny design proves. It even doubles as a breakfast bar, courtesy of a simple overhanging work surface. Tongue and groove panelling integrates the piece with the rest of the Shaker-style scheme.
8. Upcycle your own mini island
For an easy and affordable way to create a pretty and practical feature in a kitchen, upcycle a vintage table and use it as an island. Choose any paint colour you wish to transform your centrepiece – this sunny yellow is a particularly cheery choice – and add a stool in a contrasting colour to complete the look.
9. Go large
If you've got the space, why be afraid to use it? At the heart of this spacious open-plan kitchen is an immense island with a glossy white worktop and dramatic dark grey Shaker-style cabinetry.
This multifunctional unit has everything, including the kitchen sink! There's infinite space to prep food, abundant storage and even an integrated dining area. If you have a generous kitchen that craves a show-stopping centre piece like this, think big, useful and above all, striking.
10. Upcycle reclaimed railway sleepers
Remember those railway sleepers everyone used to put in their gardens? Well now they're creeping into kitchen design. The chunky proportions make them ideal for craggy, rugged shelving and their solidity works well for a breakfast bar too.
11. Supersize an island to make a big impression
If you have the space, fill it with a kitchen island. This produces a very modern kitchen design with an expansive countertop that serves as a casual eating spot as well as a practical worksurface for food prep. Emphasise its importance with a run of low-slung industrial-style pendants on high and leather-upholstered stools below.
12. Update an existing kitchen with a traditional butcher's block
This simple way to add more prep space and storage is also extremely elegant. A chunky end-grain surface will take a lot of culinary punishment and the open shelf at the bottom provides easy access to cookware. What's more the design would work just as well with slab-style units as it does with this Shaker kitchen.
13. Curve the ends for better flow
More food for thought: Kitchen cabinets – what to look for when buying your units
if you're trying to fit an island into a smaller kitchen, it's a good idea to choose a design with rounded edges. This will inevitably cost more, but there will be no sharp corners to catch against as you and your family manoeuvre around the space.
14. Hide the clutter
A taller, or 'flying' breakfast bar like this one serves two purposes. Firstly, its height is great for more casual eating and drinking. And second, if you do make a mess in the kitchen, it's obscured from view of guests by the bar. Genius, no?!
The post Kitchen island ideas for every style of home appeared first on Ideal Home.
Read more: idealhome.co.uk