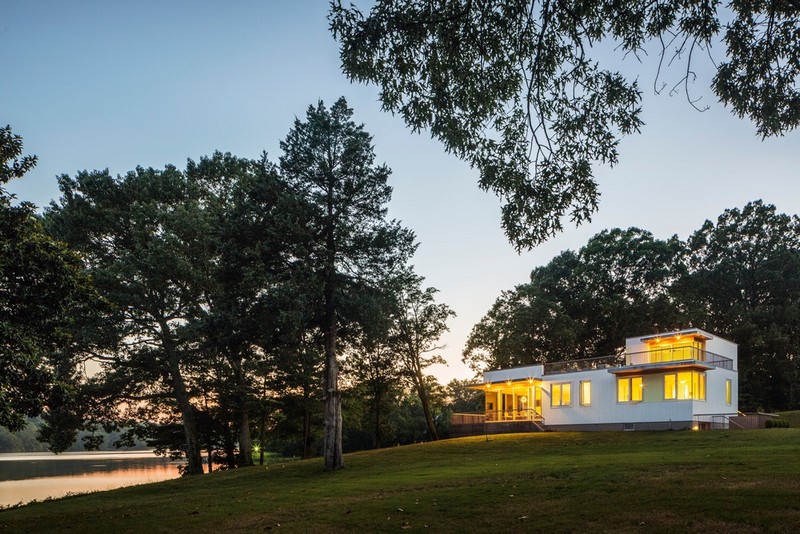 02 Aug

Upgraded 1950s Ranch Takes in Sweeping Creek Vistas
New York based BFDO Architects completed Deep Point Road House, a renovation and extension of a 1950s ranch located in Montross, Virginia, USA.
According to the architects, the updated house needed to take advantage of its beautiful surroundings, defined mainly by two converging creeks. The owners wanted to enlarge the house while capitalizing on the sweeping vistas and light that is reflected off the water.
A den extension was added to the north side of the house, in order to capture views and counterbalance the original, south-facing volume of the site. The social core of the house is the living room, which is "wrapped" in floor-to-ceiling windows.
"The open plan of the kitchen, living and dining rooms is punctuated by a two-sided fireplace, which separates dining and living areas," the architects explained. "Skylights on either side allow light to bounce off the surface of the chimney volume. The L-shaped kitchen has a 12-foot-long island, topped in Namibian white marble."
The master bedrooms are linked to scenic wooden decks. A stairway leads the way up to the rooftop garden, where lounge furniture and planted rows of herbs make for a relaxing refuge. Information provided by BFDO Architects; photography courtesy of Francis Dzikowski/OTTO.
The post Upgraded 1950s Ranch Takes in Sweeping Creek Vistas appeared first on Freshome.com.
Read more: feedproxy.google.com